@
'm'o'n–@l
"ú–{ƒxƒgƒiƒ€•¶‰»ƒXƒ|[ƒc
Œð—¬ƒZƒ"ƒ^[
–{'å‰ï'́A"ú–{ƒxƒgƒiƒ€•¶‰»ƒXƒ|[ƒcŒð—¬ƒZƒ"ƒ^['̍'ÛŒð—¬Šˆ"®'̈êŠÂ'Æ'µ'ÄŠJÃ'v'µ'Ü'·B
@
Ýƒz[ƒ`ƒ~ƒ""ú–{''—ÌŽ–ŠÙ
"Œ‹žV•·E"Œ‹ž'†"úƒXƒ|[ƒc
'Û‹@ŠÖ"ú–{ƒAƒZƒAƒ"ƒZƒ"ƒ^[
@
'm'o'n–@l
'¢'ë'͂ɂقւƏm
'm'o'n–@l
ƒXƒ|[ƒcƒGƒCƒhƒWƒƒƒpƒ"
'm'o'n–@l
Ã"ìƒgƒ‰ƒbƒNƒNƒ‰ƒu
ƒCƒ"ƒ^[ƒiƒVƒ‡ƒiƒ‹i'r's'b'hj
ƒxƒgƒiƒ€î•ñŽ@ƒrƒi'a'n'n
@
@
@
ƒeƒ‹ƒ'Š"Ž®‰ïŽÐ
Š"Ž®‰ïŽÐƒƒCƒeƒBƒA
¬"c‹}•S‰Ý"X


A beach marathon in Vietnam that you all have been waiting

for is here, now in the third year Nha Trang Marathon 2012

is to take place again. Letfs meet at beautiful and relaxing

Nha Trang beach.
3rd Vietnam International Nha Trang Beach Half Marathon 2012

(3rd Nha Trang Marathon 2012 ) will be held on Sunday March 4,

2012.
The concept of this marathon is to have visitors connect with

Vietnamese and people from neighboring countries and also

popularize marathon races in Vietnam.
We look forward to seeing you at the Nha Trang Marathon.
@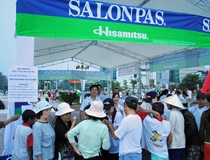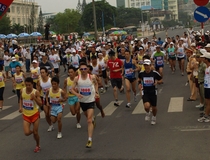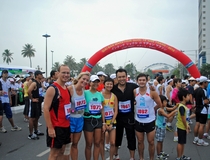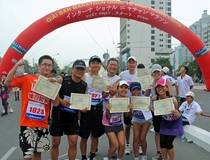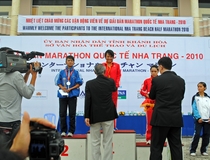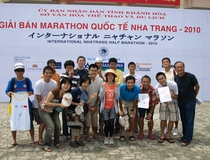 @
Race Information
Race Place

:

Nha Trang City, Khanh Hoa Province, Vietnam.

Race Date

:

Sunday March 4, 2012

Organizers

:
Vietnam International Nha Trang Beach Marathon

Organization Exective Committee Japan and Vietnam.

Supporting Organization

:
Embassy of Vietnam in Japan, Consulate General of Japan in Ho Chi Minh City, JICA ( Japan International Cooperation Agency ),

@

Japan ASEAN Center,

Tokyo News Paper.

Event

:

Half Marathon, 10 km race, 5km race ( 3.5km Road, 1.5km Beach)

Start

:

Half /06:00am, 10 km/06:10am, Road & Beach/06:20am (all tentative time)

Commendation

:
Various Men and Women 1st -6th

place

Prize

:

Prize for Participation , Running Certificate, T-shirts and others.

Entry Fee

:

Entry fees for all foreigners is as follows , except for Vietnamese Living in Vietnam ( The Vietnamese are different entry fee )

For those applying between Nov 21, 2011

\

Jan 20,2012

Half

Marathon/US$80,

10km/US$60,

5km/US$50

Contact

:
E-Mail: info@nha-marathon.com
Course Map